About us
Our Mission
Improve care for people with multiple chronic conditions, reduce complications and hospital stays, reduce care costs.
"Chronically ill people need care that is not limited to visits to the doctor. It is time to move from one-off treatment to continuous care. That's what Oska is for."
Our story
We founded Oska Health because we know first-hand the challenges of caring for chronically ill people and their families.
We know how serious the consequences can be. And we know where to start to improve patients' lives, help doctors treat them and reduce the cost of care.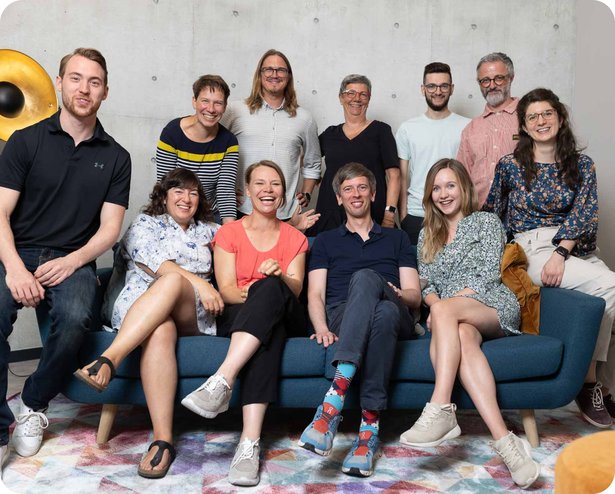 Niklas Best
CEO & Co-Founder
Niklas has 10 years in kidney care and building and leading high-performance digital teams. In his last position he was the Director Digital Products at Fresenius Medical Care. Niklas founded three companies and holds an Executive MBA of the University of St. Gallen.
Claudia Ehmke
CPO & Co-Founder
Claudia has more than 20 years experience in London's startup and product studio scene. She is an experienced product leader combining strategy, human-centred design and tech. In her last position Claudia was the Product Lead ustwo, one of London's most renowned product studios.
Dr. Malte Waldeck
CFO/COO & Co-Founder
Malte has more than 8 years experience in the kidney care industry. In his previous positions he was the CIO of the Dmed Healthcare Group, and M&A Director at DaVita Kidney Care. Malte holds a Ph.D. of the RWTH Aachen and started his career in investment banking at Bankhaus Metzler.
Kerstin Gerpheide
Lead health coach
Kerstin has been a registered nurse for over 40 years. She worked at the German Heart Centre in Munich after completing additional specialist nursing training in intensive care/anaesthesia. During 16 years of nursing management in a private dialysis centre, she completed the specialist nursing training in nephrology. As a nursing director, she worked in various international nephrology clinics.
Jamie has more than 20 years of software development experience in the London tech scene. He is a seasoned team leader, mentor, and hands-on executor. In his previous position Jamie was a Lead Software Engineer at Bulb Energy, London.
"What I like most about working at Oska Health? Our ambition to help people and working in a team that is fully behind the work."
Guided by expert knowledge
Prof. Dr. med. Klemens Budde
Nephrology
Specialist in Internal Medicine and Nephrology and Hypertensiologist DHL
Senior consultant at the Charité Universitätsmedizin Berlin, specialist in nephrology and internal intensive care medicine
Head of the DGfN Commission for Digital Nephrology
Dr. med. Anh-Thu Hentschel
Nephrology
Specialist in internal medicine and nephrology
Nephrologist at the Nephrologicum Lausitz / Dialysis Cottbus
Specialist at the Carl-Thiem-Klinikum Cottbus Department of Nephrology
Prof. Dr. med. Jügen Wagner
Nephrology
Head of Internal Medicine at the MEDICLIN Staufenburg Clinic
Professor at the University of Heidelberg
Former Chief Medical Officer of B.Braun and Head of Medical Affairs at Amgen
Barbara Contzen
Nutritional therapy
Expert in nutrition therapy for chronic renal insufficiency in predialysis and dialysis (HD + PD)
Member of the DGfN Commission for Nutrition
Member of the DGEM Guideline Commission: Enteral and Parenteral Nutrition of Patients with Renal Failure
Prof. Dr. med. Christoph Wanner
Nephrology
Professor at the University of Würzburg and the University of Oxford
Specialist in internal medicine and nephrology
Member of the Executive Committee of "Kidney Disease: Improving Global Outcomes"
Dr. med. Jennifer Franke
Cardiology
Business Manager DACH Philips. Previously Chief Medical Officer Cardiology at Philips
Member of the Cardiorenal Dysfunction Study Group of the European Society of Cardiology
Member of the Gematik Interoperability Expert Group